Research in Motion
(RIM) announced its first BlackBerry with both a touchscreen and a physical slide-out QWERTY keyboard.The phone, also known as the BlackBerry 9800, will be available Aug. 12, and cost $199 with a two-year contract with AT&T, which will be the exclusive provider of the Torch.
The device will use RIM's new Operating System 6, which includes a badly needed re-do of the BlackBerry Web browser, which is painfully slow and frustrating to use. The new browser is called the Torch Mobile browser. It is based on WebKit, the same engine used by Apple and Google.Blackberry is under threat by Apple and Android(Google phone).So to compete,BlackBerry comes up with new Operating System.
The whole user interface gets a facelift with crisper icons and visuals, new graphics, animations and transitions. There's also a new homescreen with multiple views based on content type (all, favorite apps, downloads, media, etc.) as well as universal search.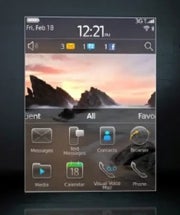 Perhaps the most exciting feature of BlackBerry 6 OS is the WebKit browser. One of the biggest weaknesses of the current version of the BlackBerry platform is its clunky, hard to navigate browser. Webkit is the same
technology
behind Apple's Safari browser on the iPhone's OS. The Android Web browser as well as the Symbian S60 browser are also built around Webkit.
And keeping with the trend of social network integration we've seen on other platforms, like HTC Sense for Android for example, BlackBerry 6 will have a "social networking feeds" app that will combine status updates from Facebook and Twitter. You'll also be able to chat with your friends via a slew of different messaging services like Google Talk, BlackBerry Messenger and AIM within one seamless application.
BlackBerry Torch
brings in a full QWERTY keyboard and a 3.2″ HVGA+ (480 x 360 pixels) display in an acceptably thicl 14.6mm body. The tri-band 3G handset packs Wi-Fi b/g/n, Bluetooth and GPS, making up for an excellent all-round connectivity.
The 5 megapixel autofocus snapper on the BlackBerry Torch 9800 back is capable of recording videos up to VGA resolution. There is 512 MB of operating memory on board, while the storage capacity is 4GB, expandable by up to 32GB through the microSD card slot. There will also be a 4GB card included in every retail package.
The BlackBerry Torch 9800 will be offered exclusively (at least in the US) to AT&T customers, starting from 12 August. It will cost a cent short of 200 bucks after a two-year contract.